Rover's Rewards
2014
Rover's Rewards is a full-service marketing and loyalty program. Through its smartphone application, it helps business owners draw in new customers and encourage previous customers to return more often. Users can earn and spend points by visiting businesses within its network and these businesses can build longer lasting relationships through an unobtrusive and well-received line of communication and marketing.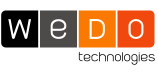 WeDo Technologies
2008-2014
WeDo Technologies is a supplier of revenue and business assurance software and services. Its netCLARUS SaaS offering helps eliminate $100s of millions in expense for some of the nation's largest mobile service providers. netCLARUS offers a powerful GUI to analyze millions of call records to increase visibility into variable network operating costs, intercarrier exchange costs and local, LD and SMS usage.
Farragut Systems
2004-2008
Farragut Systems provides custom software solutions in the areas of local government and property and casualty insurance. NCPTS is joint venture between Farragut and the NC Association of County Commissioners to create a comprehensive property tax system. Farragut also provides customized line-of-business client-server applications for a large property and casualty insurance firm to aid their agents in the field.
Technical Competencies
Server Side

C# ASP.NET, MVC 5, PHP, Python, Java, R Statistical Package

Client Side

HTML 5, CSS 3, JavaScript (JQuery, KnockoutJS, Bootstrap)

Cloud

Micrsoft Azure, AppHarbor

Mobile

Apache Cordova cross platform development

ORM Packages

Entity Framework 6, DevExpress XPO

Databases

MS SQL Server, mySQL, Oracle 9i
Education
North Carolina State University
Bachelor of Science (B.S.), Computer Science, 2000 - 2004
Minor, Physics
Activities and Societies: Summa Cum Laude, Phi Kappa Phi